How I Care for my Natural Hair in a protective style and Why I no longer use Jamaican Mango and Lime.
A few weeks ago I showed how I installed my Crochet Braid Faux Locs. If you would like to know how to do this protective style you can see the post here.
Its been almost 3 weeks since I have been wearing this style and I am just coming with a quick post and youtube video to show you how to care for your hair while wearing crochet braid faux locs as a protective style. 
I must say that this post will be two fold. While I was doing my regimen, my partner brought something to my attention and so I decided to add it in this post, hence the long title. First I will share the regimen then I will tell you why Jamaican Mango and Lime is no longer apart of it. 
Protective Styling
The aim of Protective Styling is to protect your hair, meaning minimizing manipulation. It doesn't mean that you do not have to moisturize your hair while wearing it.
Whenever you wear protective styles you must always remember to care for your hair.

How to Care for your Natural Hair while wearing a Crochet Braid Faux Locs
I have become such a minimalist and because of that, the way I care for my hair has changed. Before, I used many different products for moisturizing. But I have stopped using many of them because they contain chemicals which I no longer use.
I am in the process of searching for natural hair products that contain little to no harsh chemicals so if you know of any just list them below in the comments.
In caring for my hair I use a few simple ingredients:
Organic Coconut Oil ( Here is my top pick)
2 drops Tea Tree Oil (I'm using one that I got in an Essential Oils Aromatherapy Necklace gift set)
WATER
I put all these ingredients in a bottle and I apply it to my roots then I massage it in.
Here is a quick video:
Why I no longer Use Jamaican Mango and Lime
I have been using Jamaican Mango and Lime for a few years. I used it as a child and I used it even more when I first started my locs.
About two months into my Loc Journey, I stopped using their retwist gel because it left build-up in my loc'd hair. However, I kept using the Jamaican Mango and Lime Island Oil.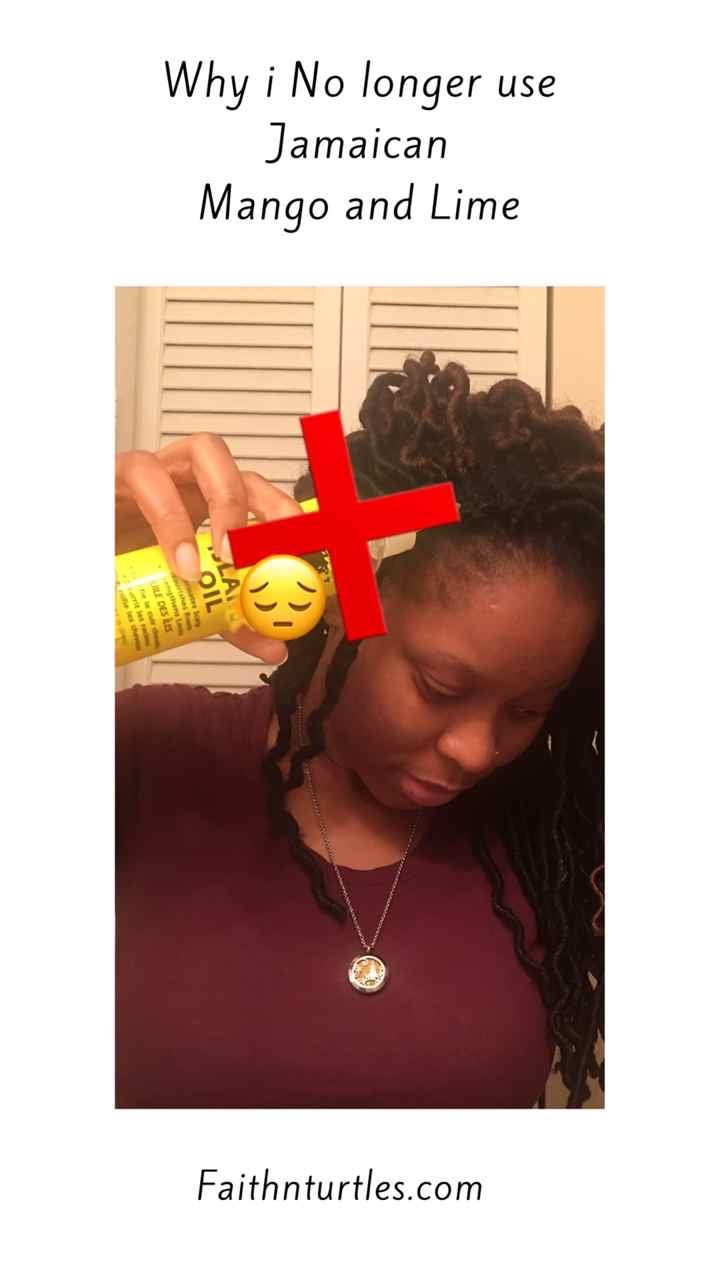 Why I Removed Jamaican Mango and Lime from my Hair Regimen

A few weeks ago, my partner pointed out to me that the product contained mineral oil. Initially, I wasn't aware of the dangers or even the origin of Mineral oil so I did my research.
Here is what I found
Mineral oil defined as
a distillation product of petroleum, especially one used as a lubricant, moisturizer, or laxative.
Now, I do not need to and will not be putting this on my scalp. But, I will provide you with reasons why the research says mineral oil should be avoided.
1. It Serves no Useful Purpose
i.e ..It is probably not that beneficial. Mineral oil is said to be odorless and the only thing it does is reduce water loss from the skin. Now coconut oil or any other carrier oil does this just fine. Once you put coconut oil on your hair after adding water it seals that moisture in.
2. Only properly refined is safe to use.
It is Toxic. Now if the product is properly refined it is not considered carcinogenic but in its untreated and lightly refined state it does contain carcinogenic properties. I cannot be sure if these companies are ensuring that the product (mineral oil) is well refined.
3. Benefits only the manufacturer, not consumer
Mineral oil is used because it is inexpensive not because it offers any spectacular benefits to you, your body or your hair other than that allows you to retain water which as I stated can be done by using coconut oil.
4. Fragrance
It also contains fragrance which I try to always avoid. I avoid this because, within the U.S., manufacturers can legally hide hundreds of synthetic chemicals under the word "fragrance".
Based on those findings I say Bye Bye to Mineral oil and bye bye to Jamaican Mango and Lime Island Oil, unless they have new and improved products with better ingredients.
As naturals, we want the best and only the best for our hair. There is no point in using something if it is not good for your hair. Opt for oil mixes that you can do yourself or buy from a local business.
What are your thoughts on this product and which oils do you use for your hair? Let me know below.
Thank you so much for reading.