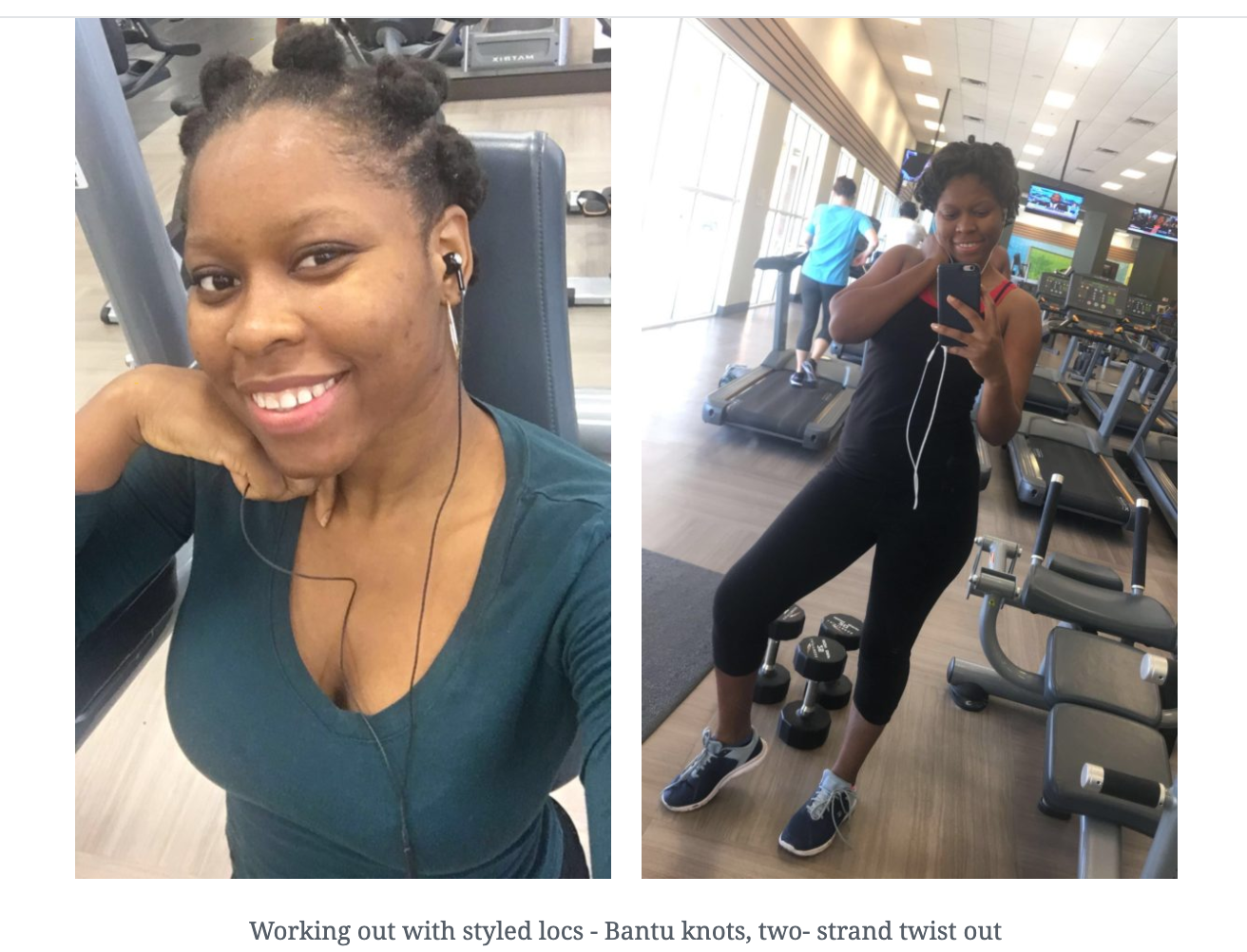 Working out with Locs – Tips for Your Retwist and Scalp
Exercising or working out with Locs is doable!
Maintaining locs while working out or living an active lifestyle is not as difficult as some people may think.
I have been working out with locs ever since I started them (1 year ago), as well as I have been helping my husband with his starter locs since he started them back in April. What I've learned from both of our journeys is that the care needed after working out is different for both of us.
For me, after exercising with locs there isn't much that I have to do. I don't sweat as much as well as I do not like the fresh retwist look, especially since I've been working from home.
For him, after exercising his has a specific care routine because for one he sweats in his head a lot more – probably from harder workouts. As well as he likes his locs to look freshly retwisted and professional.
This post contains amazon affiliate links. If you decide to get a recommendation, a small commission is earned at no extra cost to you- thanks for the support!
So, in writing this post, I decided to share many different ways that you can care for your hair while working out with locs.
Exercising with locs – post workout care methods
Best for Preserving a retwist
If your main concern is preserving your retwist then you may follow any of these simple post-workout care routines:
A.
Wear a stocking cap or other tightly fitted edge cap while working out.
Allow your dreadlocks to dry or blow dry to get out excess moisture.
Use a dry shampoo, if you're worried about your hair and scalp not being clean.
B.
Wear a styled retwist while working out. Eg. two-strand twists or curls.
Allow your locs to dry.
Clean scalp with any method listed in other sections (optional).
C.
Wear a Bondi-band (wicking) or another tightly fitted cap during work out.
Allow your locs to dry or blow dry your locs to get out excess moisture.
Do an oil cleanse using peppermint essential oil which has antibacterial properties and jojoba oil or other carrier oil.
Best for Itch-Free Scalp
If getting a clean and itch-free scalp is your main concern then try one of these routines.
A- Great for working out with starter locs.
Wear a wicking sweatband or Bondi band during workouts to help keep your scalp as dry as possible.
After the workout, dry your locs lightly with a towel.
Use witch hazel diluted with a little bit of water (or if you are used to witch hazel you can use as is), apply to a cotton swab and clean your scalp.
Check to make sure all locs are still intact, fix any loose locs immediately.
Apply an oil mix, if needed.
B.
Wear a sweatband to help wick away excess moisture.
After the workout, allow hair to dry.
Mist scalp with rose water.
Use a clean towel to dry and clean the scalp.
Apply an oil mix, if needed.
All products mentioned can be found here: Items for working out with locs.
FAQ
Are there any loc styles that is better to wear when exercising out with locs?
If your locs are past a few months old and you are able to style your hair then there are a few styles that can be used to help maintain neat locks while exercising regularly.
One of my favorite loc styles is two-stand twist. This is a compression style and it can really help to keep a retwist in place. Even after taking this style out, your hair will be styled for another week or so. This is a great hairstyle for working out regularly with locs.
Braided hair styles are also good. Just be sure to blow dry your hair so that no moisture gets trapped in your locs.
Are there any loc starting methods that are good for living an active lifestyle with locs?
Most people recommend starting locs with interlocks or even instant locs if you live an active lifestyle and maintain with interlocks as well.
Interlocking is a secure method for locking your hair so you won't need to worry about your hair unraveling or your retwist getting loose.
Do I have to adjust my loc wash day routine?
When it comes to working out with locs and washing, you may have to adjust your wash day routine but not by much.
Say, you generally wash your locs once per month, it may be best to change that to wash your locs every 7-14 days if you are working out regularly. This is because you do not wash your hair after every workout and so you don't want that sweat to build up for too long.
If you've been using a post-workout cleanse routine then you can use those results to decide if you need to change your wash routine or not.
You can also use a loc hair journal to record your process with your current method and that will help you to accurately plan for the next month. The journal includes hair assessment, wash day routine, and journaling sheets.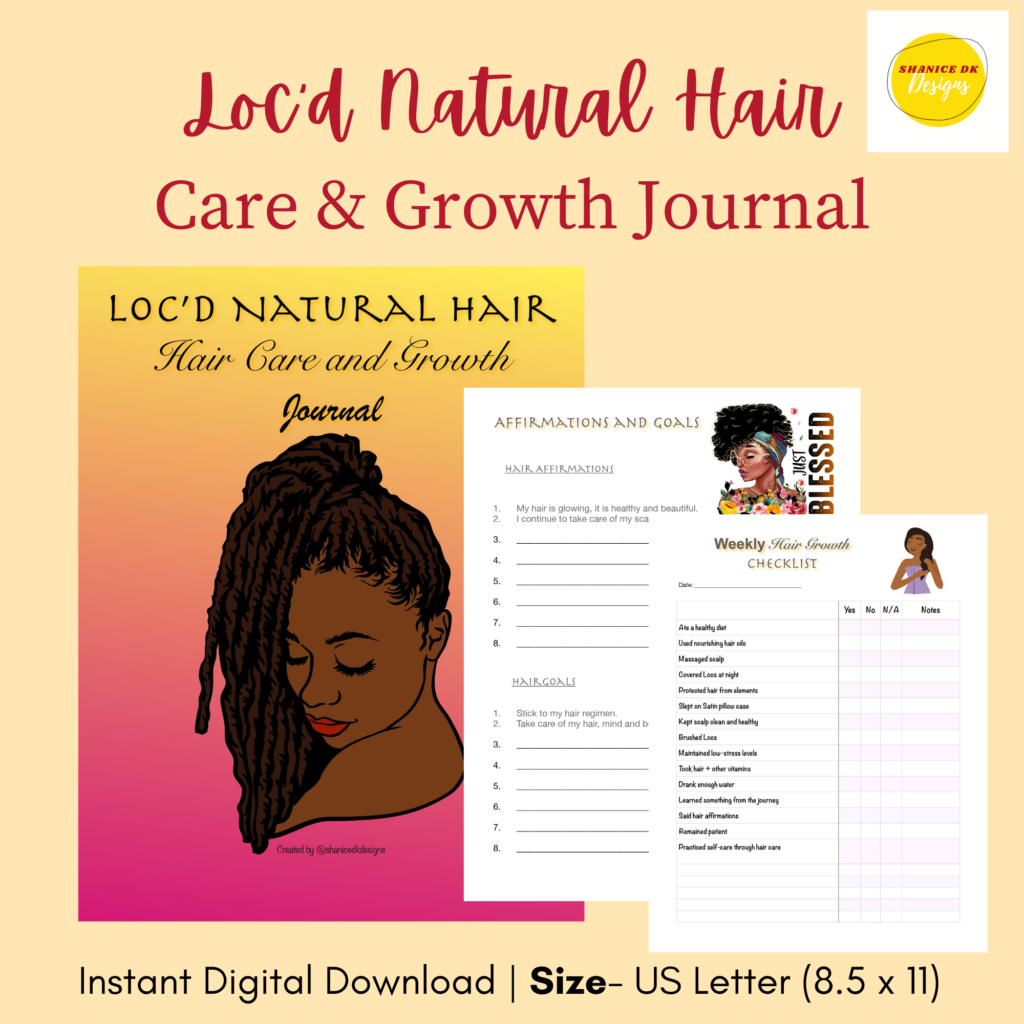 How do you care for your locs while working out? Share tips for your fellow loc brothers and sisters.
That's all for now, I'll see you in my next one.
Love, light and peace.
Shanice DK