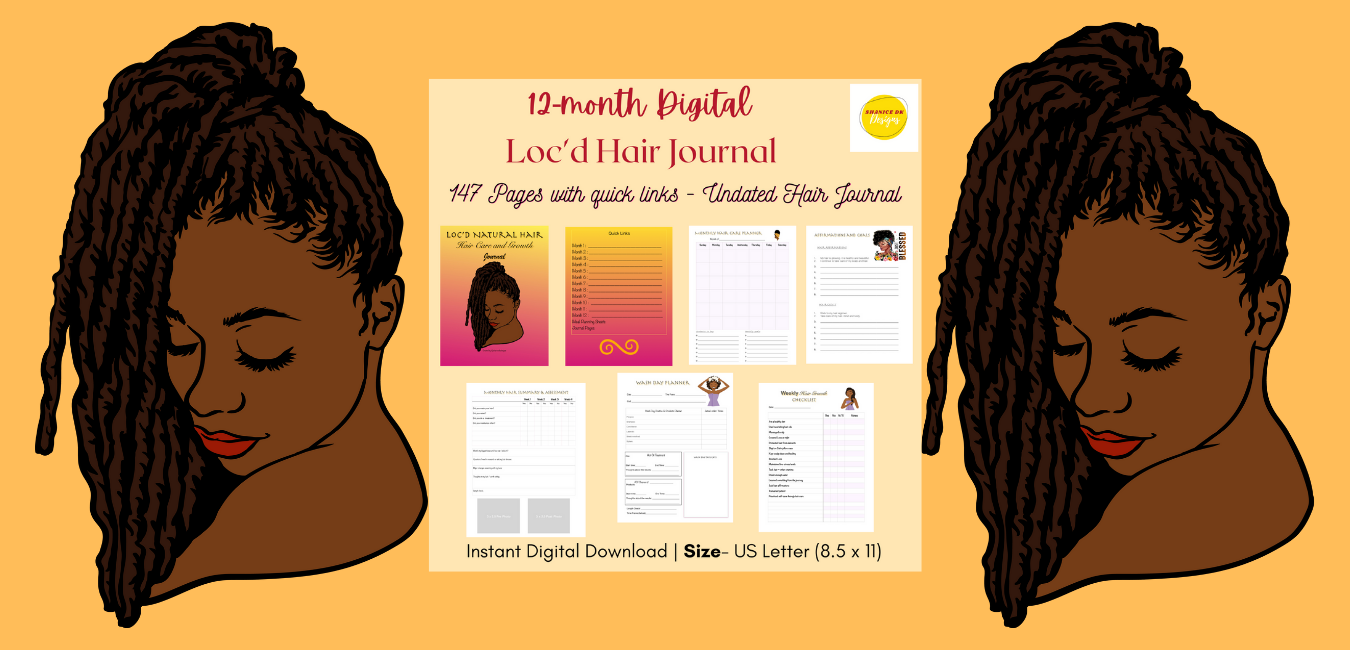 Surprising Benefits of using a Loc'd Natural Hair Journal
If you are currently using a Loc'd Natural Hair Journal then you are well on your way to mastering your loc journey or as my husband likes to say mastering the 'way you express yourself '. If you are not using a Loc'd Natural Hair Journal then it is never too late to start. Feel free to skip this article and grab your copy or continue reading to see how this resource would be of benefit to you! 
What is a Loc'd Natural Hair Journal?
A Loc'd Natural Hair Journal is a resource that allows you to keep track of your hair growth, hair care, thoughts about your hair and so much more. Think of it as a hair care log, you can make entries on a daily, weekly or monthly basis. This journal can be a pre-made journal that provides a guide for you or it can be a free-hand journal that you create in a notebook. You may even keep track in your phone, via pictures or videos. 
If you choose a pre-made Loc'd Natural Hair Journal, you may find the one created by myself to be well suited, it is a physical download that you can print at home.
Update: You asked and we granted it. You can now purchase the full 12-month journal on amazon! I am so excited about this launch. Grab your 12-month loc'd hair journal!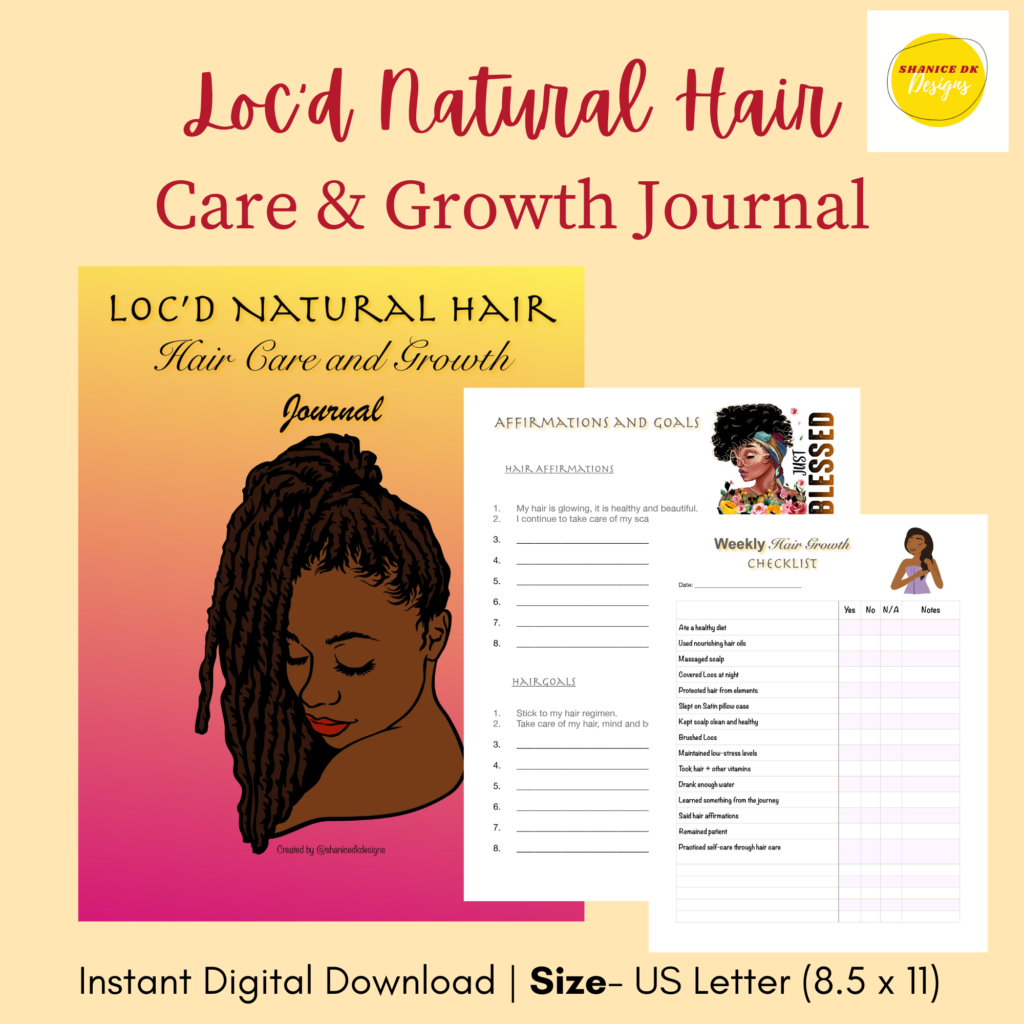 What are the benefits of keeping a Loc'd Natural Hair Journal?
Keeping a Loc'd Natural Hair Journal is super beneficial to not only those with starter locs but everyone who has locs. I know I don't need to say this but… caring for loc'd natural hair is very different from caring for loose natural hair and as such it is extremely important to be intentional and precise when it comes to caring for your locs.
1. A well-detailed record
As mentioned above, you may choose to use your phone to keep track of your loc journey. However, this does not afford you the added benefit of keeping a detailed record. A physical or E loc'd natural hair journal with a set structure does this.
It allows you to keep track of your scalp conditions, especially if you have issues with dandruff, as well as note dates you did specific things to your hair such as an apple cider vinegar cleanse. You may also want to note any questions that pop up that you may need to research or ask your loctician
2. Helps you to keep a positive mindset
At times in your loc journey, you may forget why you started or even start to wonder if this is for you. A loc'd natural hair journal will help you to create a positive mindset surrounding your locs via positive affirmations and goal setting but it will also help you to track your thoughts about your hair. This can be a key thing when those unnerving questions pop up. Who knows, it may help you to settle your mind or help you to realize that maybe indeed this journey or self expression at this time is not what is best for you and that is completely okay!
3. Helps with maintaining good nutrition
The very best of pre-made loc'd natural hair journals will include a section to track your meals, vitamin, and water intake. This section is very useful in making sure that what you eat is in line with your hair goals. If you desire long, healthy locs then you need to have a diet that will positively contribute to that goal.
4. Great for product, hairstyle, and tools tracking
Another great benefit of a Loc'd natural hair journal is to keep track of products and tools that you use in your hair. Most people with locs are not product junkies. We are aware of the dangers of certain products in causing buildup or damage to over locs. However, there may be a time when we want to try something new., especially for wash days. Keeping track of that and how it works for your hair will help you to pinpoint a good product or a bad product for your hair. You can also do a full wash day plan!
This will also be extremely helpful for anyone with color-treated locs. If your locs are color-treated, keeping track of the month-to-month look and feel of your hair can definitely keep you in good standing. Not to mention, keeping track of all the loc styles that you have tried!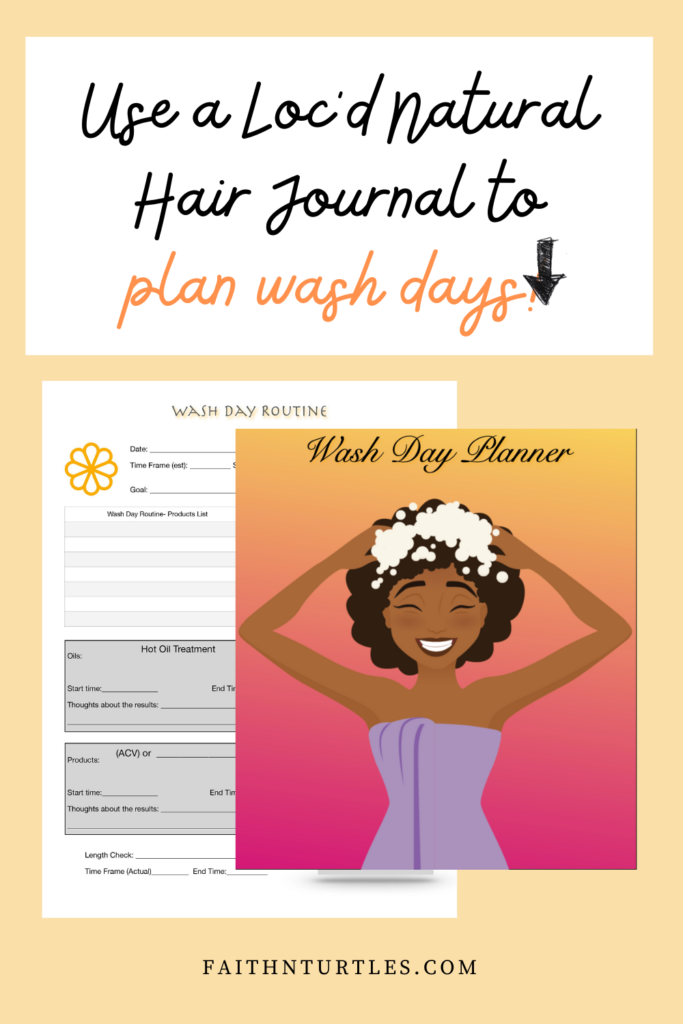 5. Helps you with hair assessment
Conducting a hair assessment is a great way to help troubleshoot any loc'd natural hair problems. I, for one, have had moments when my hair assessment has saved me with my locs as it concerns thinning at the edges. I was able to record my concerns and head to my google loctician to figure out possible causes. Of course my issues were caused by my infrequent retwisting which I was able to confirm by looking at my retwist dates.. At that time, I was not using a physical Loc'd natural hair journal or planner and so I had to search through 1000+ selfies just to find out my retwist dates. I'm pretty sure you can relate. And I also hope you see some benefits to using a physical journal or a combination of both.
Conclusion
This article's main goal was to share with you the amazing benefits of using a loc'd natural hair journal. Now, this article is not extensive nor does it apply to just loc'd natural hair. These benefits are very much applicable to those with loose natural hair and you can find a natural hair journal for loose natural hair by clicking here.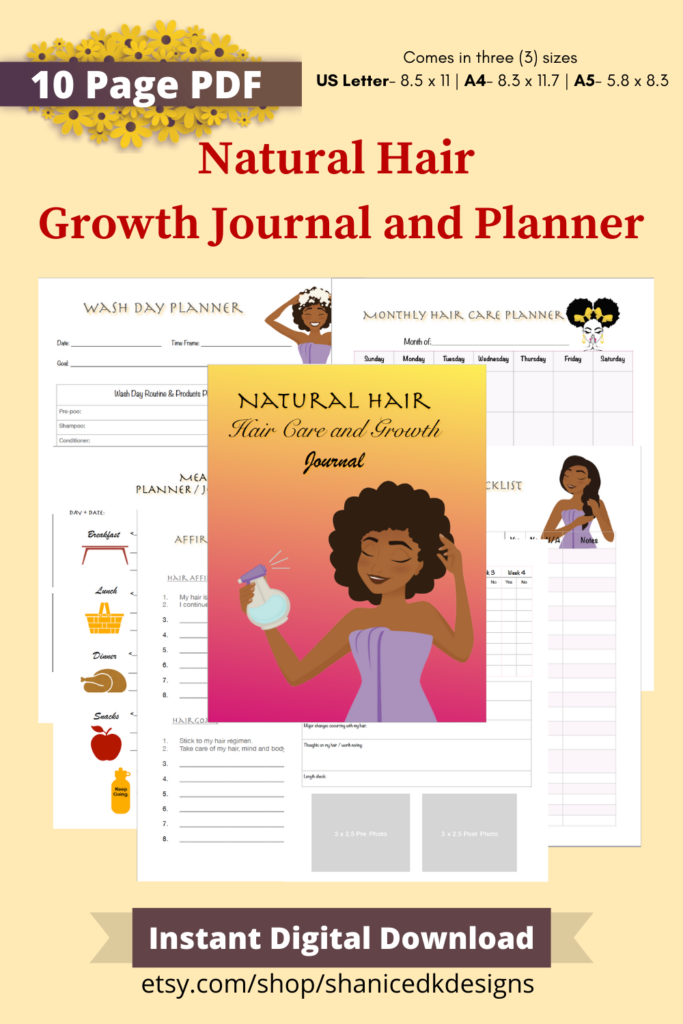 If you have loc'd natural hair, then please click here to check out a loc'd natural hair journal created by someone with locs for people with locs. 
Thanks for reading, and I will see you in the next one.
Love. Light. Peace