Designing The Perfect Writing Space
If you are a blogger, freelance writer or just a writer then you will benefit from designing a writing space. A writing space is your little corner in your house or a room that allows you to create the best content ever.
Have you ever heard the saying 'where you write impacts how you write? I saw that somewhere and I really do believe its true. I can remember when I was in college, I always had to go to the library to write. I can study in my room on my bed but for some odd reason, I cannot write there.
This post contains Amazon affiliate links. Rest assured that all opinions are my own. If you like any of the items in this post just click the link in red to purchase. By doing this, you are supporting my blog at no extra cost to you. Thank you.
The Ideal Writing Space
When I think of my ideal writing space, I imagine being in the warmth of the islands on a nice beach with a big desk and the coziest chair one can find. I also imagine having a nice big cup of bush tea paired with a piece of warm bread and cheese to fuel me as I write.
But that's not very realistic, at least not right now.
A Realistic Writing Space
A realistic writing space is one that can be created:
in a reasonable amount of time,
at an affordable cost and,
with all the important elements that are needed for increased productivity.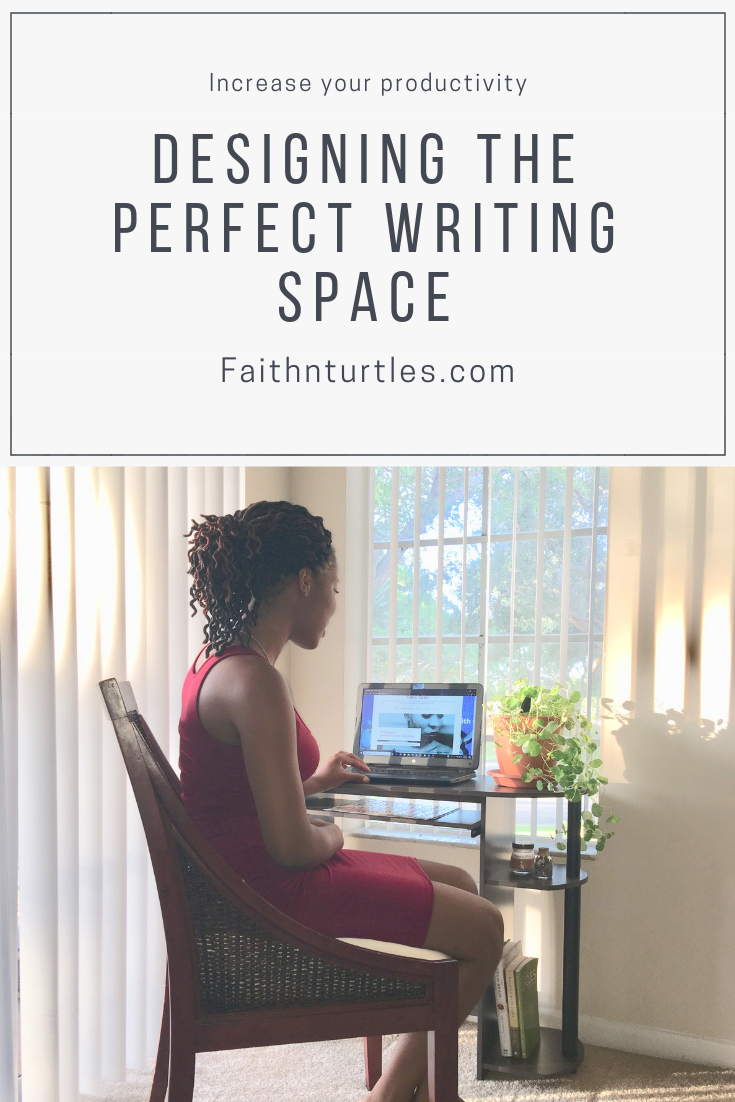 The Elements
In order for your writing space to be effective, it must have some of these elements.
A Desk
Well, of course, you need a desk in your writing space. Choosing a desk can be quite simple but getting one that's affordable is what's important. When I was thinking about creating my writing space I was quickly deterred by the cost of a desk. But thank god Amazon was there to save the day. I found this really cute desk on Amazon for a very very very low price. (You can check for yourself by clicking the link at the end of the photo below.)
The desk arrived in two days with my amazon prime membership and I did the set up myself. I am a handy girl. The directions said it should take about 30mins but it took me two hours. All in all, It was worth it.
Get this fabulous desk on Amazon by clicking:
Affordable Computer Desk
The laptops I'm using is the HP 15.6 inch Touchscreen Laptop, you can get this laptop by clicking : Cheap HP Laptop
A Comfy Chair
A comfy chair is a must-have in our writing space. You don't want to be sitting and writing for hours only to get up with a backache. Also, If the chair isn't comfy enough you might not even get a chance to write. The Chair that I have was one that was already in my home, I took it from around my dining table. If you don't have a comfy chair to use then you can use any regular chair and add a seat cushion.
Get this cute cushion on Amazon by clicking: Comfy Seat Cushion
The Location
If you do not have a room to dedicate to your writing space then you will most likely choose a space within your living room or dining room. The space that you choose should have:
Little to No traffic

You want a writing space that you can have some quiet and privacy. You also don't want people to easily be able to take things off your desk or put things on your desk

Adequate Sunlight, So preferably next to a window

The sunlight will give you a boost in energy and a boost in creativity. Also, many people tend to feel inspired when they are able to look out and appreciate God's creation.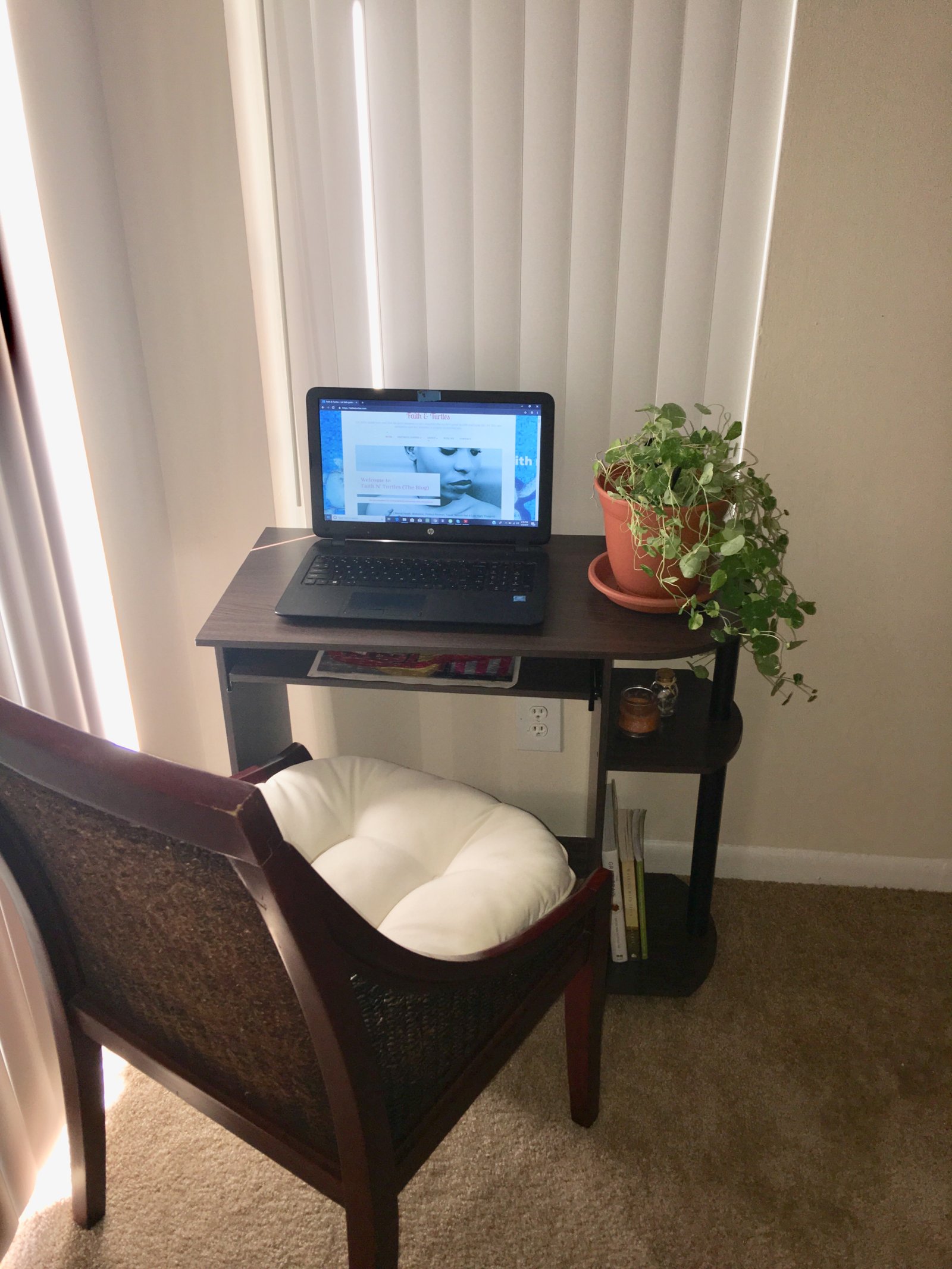 The Inspiration
Your writing space should give you inspiration and help you to feel motivated. When designing your writing space you should always add items that inspire you. You can add a family photo, books, motivational quotes or even Bible verses. You can even add some free printables like: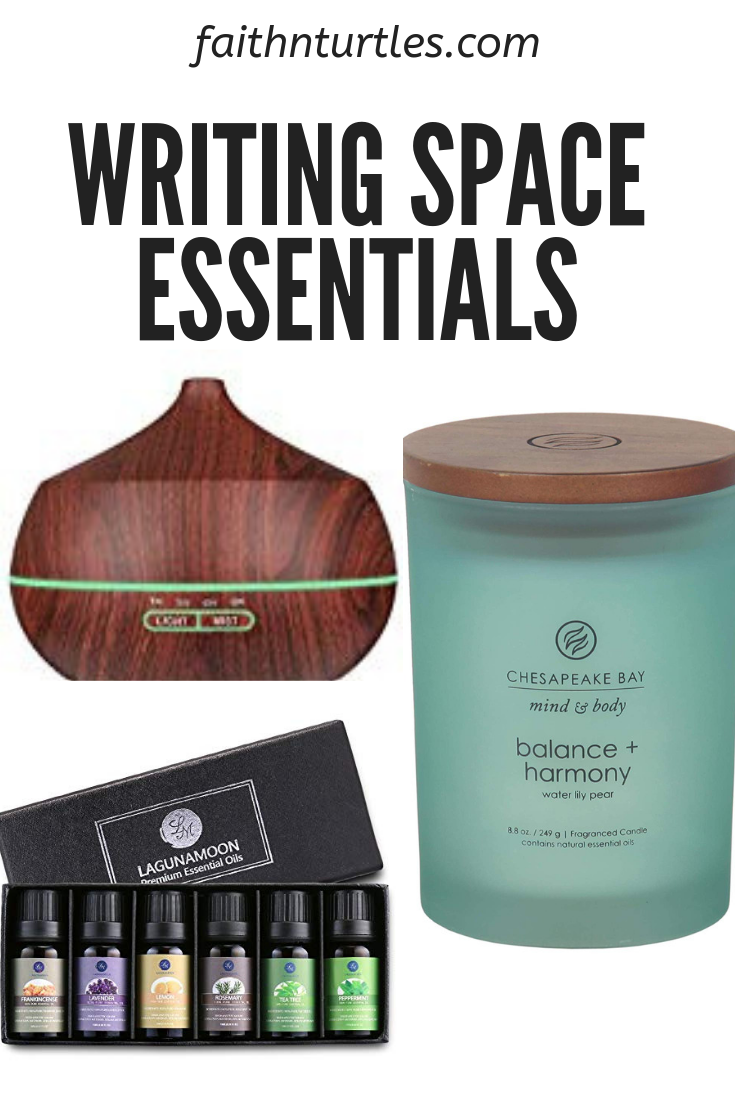 Sooth your mind
Other great items to incorporate into your writing space are items that sooth the mind.
Some of these items are:
Add the Essentials
Depending on the scope of your work and your preferences you may need to add other items. Add all the items you need to get your work done and just have fun with the decorating.
Summing it up
Create a realistic writing space and increase productivity within your writing or blogging life.
That is all for now, thank you so much for reading. All the best with setting up your writing space.
Did I leave anything out, let me know below as well as share your thoughts.
Don't forget to Subscribe.. xoxo