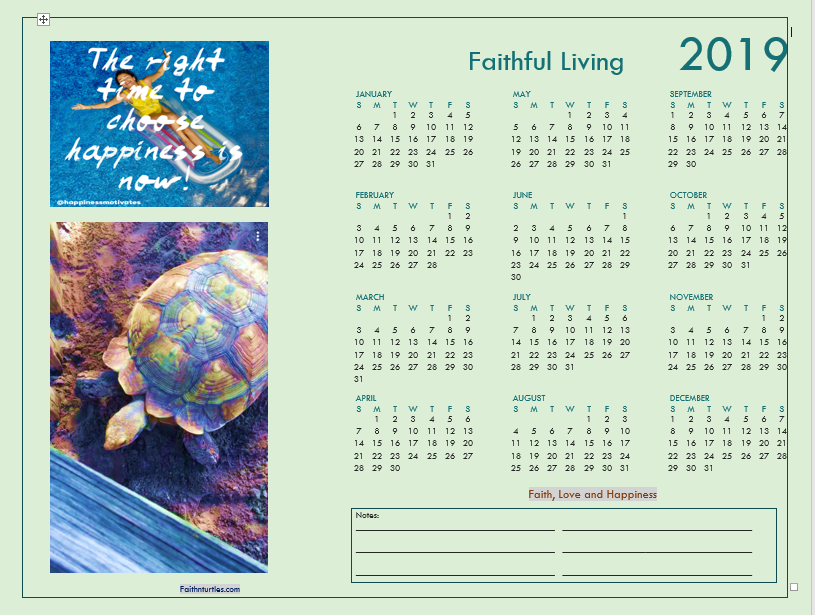 Free 2019 Desktop Calendar
Hello All!
It is day 10 of my 12 days of Blogmas. Today's post is short and sweet.
When I started my blog back in October I did not know exactly what I was doing or what it would eventually mean to me. My blogging journey from October until now has been spectacular. I have met awesome people from all over the world and I have shared many positive messages.
Today, on this 10th day I just want to say thank you to you, my subscribers. Thank you for allowing me to share my writing and thoughts with you.
It is my wish that 2019 will be a successful year for you all. A year filled with productivity and blessings.
As a thank you, I have created a free printable desktop calendar.
It is my first printable as well as my first time making calendars. I hope it suits.
Calendar Description / meaning
The calendar has a happiness quote which should remind you that you need to be happy in the moment. There is also a picture of a turtle, the photo was taken in Orlando, Fl at Gator Golf Adventure park. The turtle symbolizes good health and long life. Which is what I wish for all of you .
The Calendar also has positive words of value, it's one page and the day starts on Sunday.
The color was chosen because Green is a soothing color that will calm your mood.
Please download your free copy here: Faithful Living Desktop Calendar (2019)
Peace, Love, and Light.