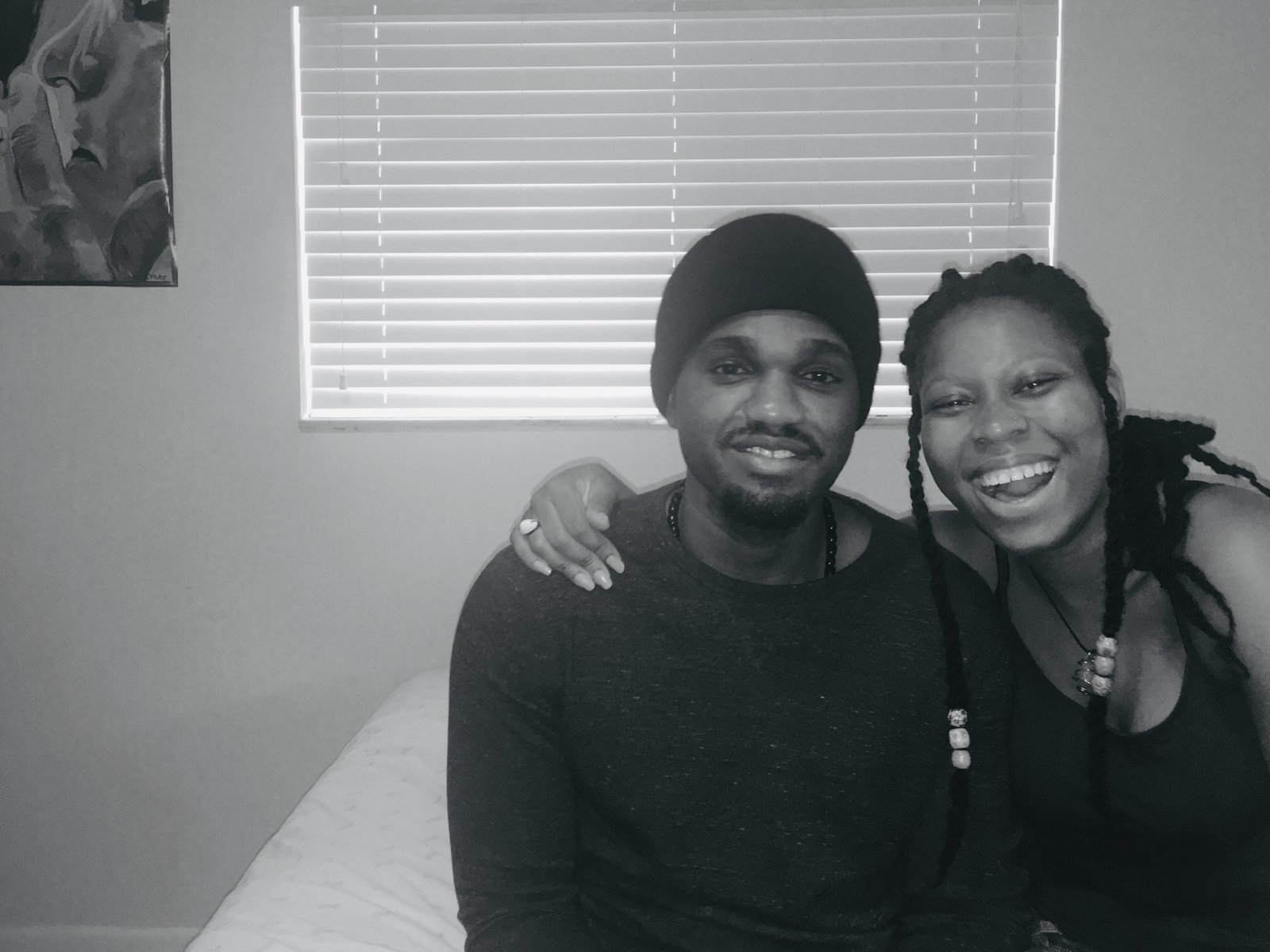 7 Date Night Ideas for Introverted Couples
Introverts do have fun and today we will get into some date night ideas for introverted couples.
I am an introvert and interestingly I started dating an introvert. Now, being an introvert doesn't mean you stay at home all the time. However, bae and I stay home all the time. So, this post will be at home date night ideas for introverted couples.
It is very important that while in a relationship you are still able to not only have fun but have fun with each other. A relationship should be a place where the needs of both people are met so always keep that in mind.
7 Date Night Ideas for Introverts
Music + Cooking a New Meal Together
So, you're probably wondering why a chore made the list. Well, cooking together is a great bonding activity, even if one person works and the other stays at home. Instead of ordering out on a Saturday night, choose a meal that you both haven't tried, look up a recipe, put on some music and have fun cooking together.
Pick a Movie to Watch, without looking at the ratings.
This may be a hit or miss and that is the fun part. Instead of going out to the movies, we actually like to watch movies at home. Most movies we watch, we look for the rating but one night I wanted to try something new so I told him, let's just pick a movie solely based on the front cover. The first movie that I picked was horrible and that was just so funny to both of us, so we still do it. Give it a try and let me know how it went.
Have a Game Night with High Stakes !
Just as you may play high stakes games with your friends, you can play them with your partner. There are a wide variety of games to choose from and on date night you can make them a bit more interesting. For instance, we like to play words with friends, on game night we play on fast mode, set a 5 second time to make a move and the winner gets whatever we decide, like foot rubs or something. Be creative and have fun with it.
Game suggestions:
Jenga– You can write things that the person must do before placing down the brick on them or on separate sheets that you randomly pick.
Dominoes – always fun.
Video Games- Unravel 2 is a great game for couples.
Puzzles- This is a great way to work together on creating something beautiful.
Have a Spa Night
This is perhaps the most romantic item on this idea list. Basically, you will be giving each other the spa treatment. Set the mood, get the wine, the coconut oil and just have a wonderful relaxing spa night. You can do massages, a little light yoga, mani's, pedi's, run the bath. Whatever you like to do at a spa, you can do it at home.
Plan. Plan a Vacation or Short Getaway
Planning something may sound like a lot of work but if you do it as a date night activity it can be quite fun. Whenever I want to plan a getaway, its always an activity. I come up with ideas then I head to YouTube and we watch travel vlogs, That in itself usually turns into a great conversation that is filling and a lot of the times we never go on those getaways. You can even turn it into a mini vision board/ plan party.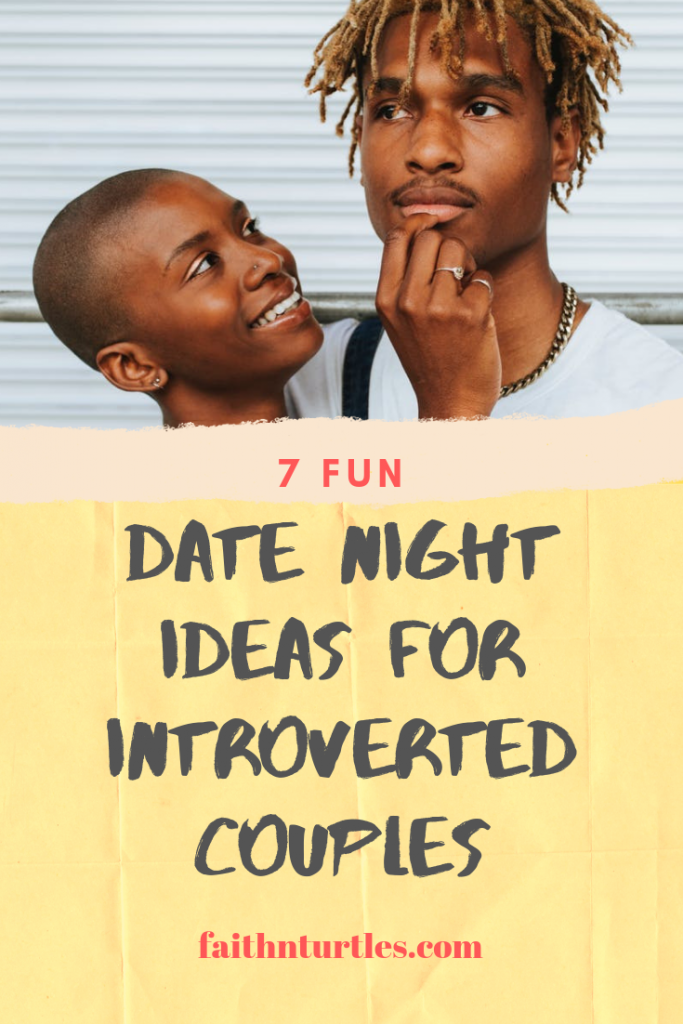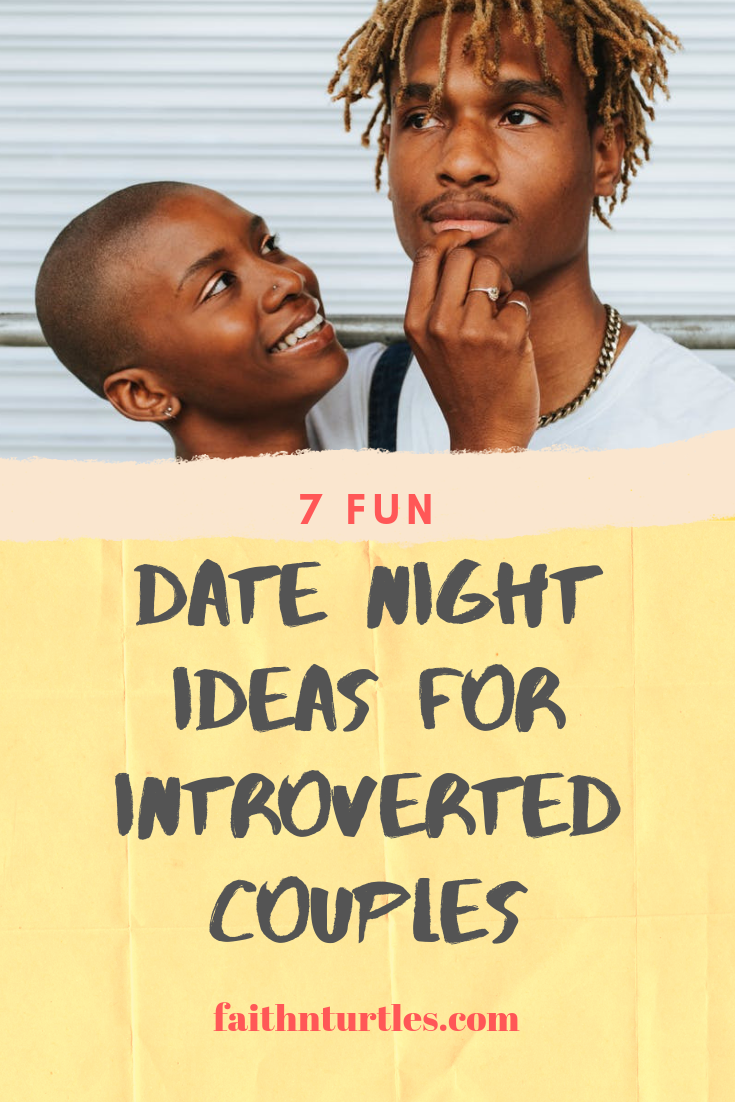 Host a Paint and Sip for 2
A paint and sip is a great date night activity, even if you can't paint. The first time I hosted paint and sip, I picked up materials from the dollar store. With dollar store materials, it was a bit competitive because it became "let's see who is more resourceful". For us, competition is always fun but it doesn't have to be competitive. You can get good supplies and follow a more structured format if you like.
Make Desserts
Who doesn't love desserts? There is nothing better than at home deserts. For date night, you can both make your favorite desert together. If you like ice cream and he likes cake, you can make a cake then scoop some ice cream on top. So GOOD.
Summing It Up
In this article, I listed 6 date night ideas for introverted couples. This post was short and sweet and I hope that it is beneficial for you.
The 7 ideas are:
Cooking Together, while listening to music
Watching a random movie
Hosting a high stakes game night for 2
Having a Spa Night
Planning a getaway
Hosting a paint and sip for two
Make Desserts
What do you do for date night? I would love to know. I also have a lot's more ideas so if you need a part two just let me know.