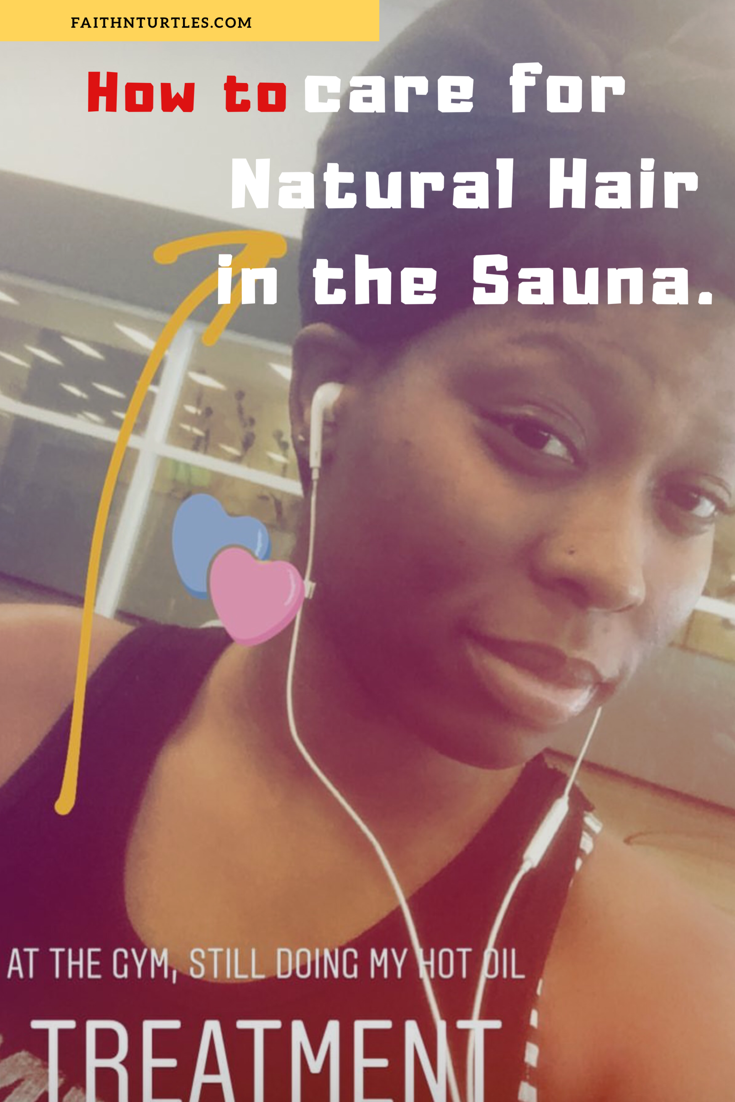 How to Care for Natural Hair in the Sauna
A sauna is a place that people sit in to experience dry or wet heat. The sauna hosts numerous benefits to the body. Despite the benefits to the body, the sauna can be extremely damaging to your natural or chemically treated hair if proper care is not taken.
The damage arises from the heat which may dry out your hair. If you already suffer from dry hair then you must ensure to take extra care when using the sauna.
In this post, I will share a few benefits of using the sauna at your local gym as well as ways in which you can care for your hair while using the sauna.
Benefits of Using the Sauna
The sauna is typically used after a workout. Some people may choose to hop in the shower and take a sauna while wet while others may simply pop in right after getting off of the treadmill.
Tips: 1. Before entering the sauna you should always drink at least a full bottle (16.oz) of water so that you can stay hydrated while using it. 2. never stay in the sauna for more than 20 minutes. Please read more tips for using the sauna here.
As for a few Benefits, the sauna:
Helps to Reduce Stress. The heating element causes your body o to relax
Flushes out toxins. Using the sauna will cause a deep sweat which is great for removing toxins in the body.
May help reduce pain. The heating element causes your body to release endorphins.
May help to burn calories.
How to care for Natural Hair in The Sauna
As naturalists, we always want to find ways that help us to make the most out of wash days and taking care of our hair. The sauna affords you just that.
When doing a Hot Oil Treatment:
A few weeks ago I did a Palm Oil Hot Oil Treatment and most of the Hot aspect came from the sauna. With this, I was able to get my workout in and treat my hair at the same time. What I did was:
Applied my DIY Palm Oil Mixture to my hair (moist hair)
Covered my hair with a plastic bag (you can use your hair/ shower cap)
Covered my hair with a headwrap
Continued as I normally would at the gym and sauna
Not Doing any Treatment:
If you are not doing a deep treat or hot oil treatment then you must still care for your hair. Here is how:
Mist your hair thoroughly with water or liquid of choice
Apply your favorite hair oil
Add a leave-in cream or other moisturizers
Cover your hair with a shower cap, headwrap or towel (optional)
If you prefer to use the LCO method as opposed to the steps I described then you can do that as well. The goal is to ensure that your hair is well moisturized before using the sauna.
Also, if you are in a protective style then you can mist your hair with water then apply oil. This is what I currently do as I am rocking feed in braids.
Summing It up
Caring for natural hair may not always be an easy or convenient task but it has always been worth it for me and I hope for you too.
In this post, I gave ways in which you can care for your natural hair while using the sauna. All in all, you just need to ensure that your hair is never dry and always moist when going to the sauna.
That's it for this post. Let me know your thoughts in the comments section.