Creating New Christmas Traditions, A Caribbean-Nigerian Couple
My perspective: Christmas in The Caribbean
Christmas Traditions. For me, I didn't grow up in a home that celebrated Christmas. My family is Adventist by faith and they have different rules/views in regards to Christmas. This means that as a child, I never read Christian Christmas Stories, I never decorated a Christmas tree nor put up Christmas lights, I never went Christmas shopping, I never laid cookies out for Santa and I never had presents to open on Christmas morning.
I also never felt like I was at a disadvantage. You see, I grew up in the Caribbean and while for some Caribbean people Christmas is a "huge deal" for others (probably majority) it really isn't. Growing up in Antigua, I think the two major Christmas events as a child were going to Big Shoul to see the Christmas lights, although its the same ones each year then walking up and down market street on Christmas Eve looking for your school friends that you haven't seen over the break.
Yes, some people will put up a few Christmas lights and maybe a tree, give the kids gifts and most people would go out on Christmas Eve; but it was never really about any of that.
From my perspective, Christmas in the Caribbean is about Celebrating the birth of Christ by simply going to church (if it is their faith/ practice ), Fixing up the house and 'Big Cleaning', FOOD, Family, and Festivals (aka Jouvert/ Parties).
As long as you had:
a big meal on Christmas day with Christmas cake and sorrel (depending on the Island),
some music playing
your family and friends stop by for a plate .. then you are good.
By January, its back to school, you'll hear kids saying my mom got me new school shoes for Christmas or maybe some pencils and a book. I mean, what else do you expect to get after all? [Toys to mash up? After you don't care notin]. O yes! Caribbean things. If you would like to read more about a Caribbean Christmas, please click: A Caribbean Christmas/ As Told By Ali.
For my spouse, it was a bit different. He has had the experience of celebrating the birth of Christ, having a Christmas tree, presents and all that comes with the season as well as he has had a Christmas when the main focus was food. Funny enough, Nigerians are very similar to Caribbean people but I guess this is no surprise.
New Traditions 
Being that we both had different experiences, we decided to create traditions of our own. We are following the principles that we value such as faith, food, family and love. We will be gift giving as its not about the gift itself but the thought that was placed it in and the love that it expresses.
We will be spending time with each other and our loved ones and we will be giving God thanks for his grace and mercies.
We do not have a Christmas tree because I guess its hard to break old habits, maybe next year. But, we do have a few christmas lights.
We also decided to do couples christmas pixie. We dont have a fireplace, of course not we live in Florida. But we wanted a cool way to do the pixie treats so we decorated stockings and hung them on the wall. The idea is that for 12 days each of us should be putting one (1) treat per day in the stockings. On Christmas day we will open the stockings together and bask in our treats. And there you have it, our first Christmas tradition
Mine

His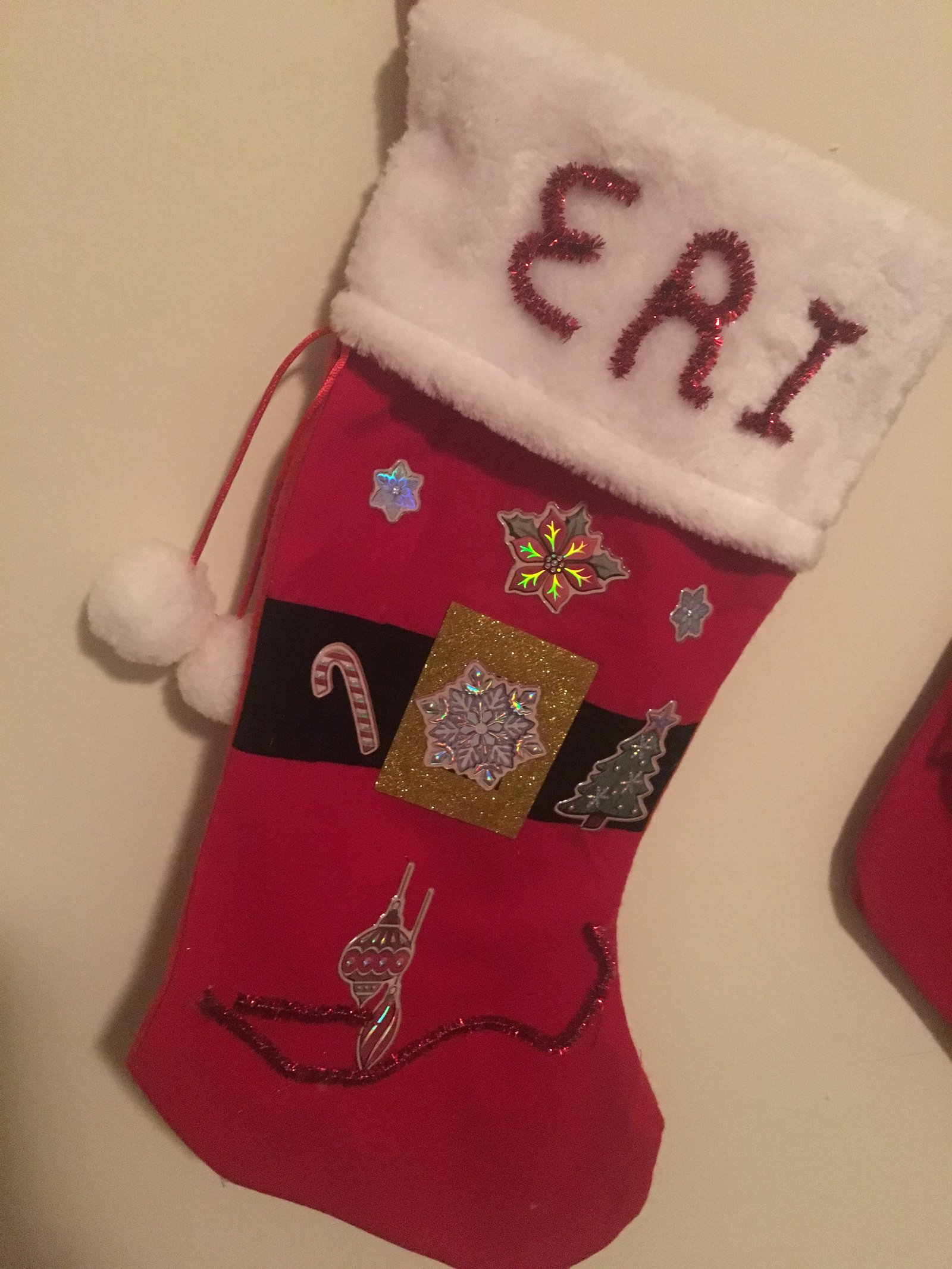 All in All
Creating Christmas traditions can be simple and fun. Use it as a way to bond with each other and express love. Place empasis on what you value and you will always have a christmas to remember.
What Christmas traditions do you have and what was Christmas like for you growing up?
Did I fairly represent the Caribbean Christmas, Let me know?
Love Light and Peace. Until Next Time.
Previous Blogmas Posts
Day 1- All about Blogmas
Day 2- 5 ways to style your TWA over the Holidays