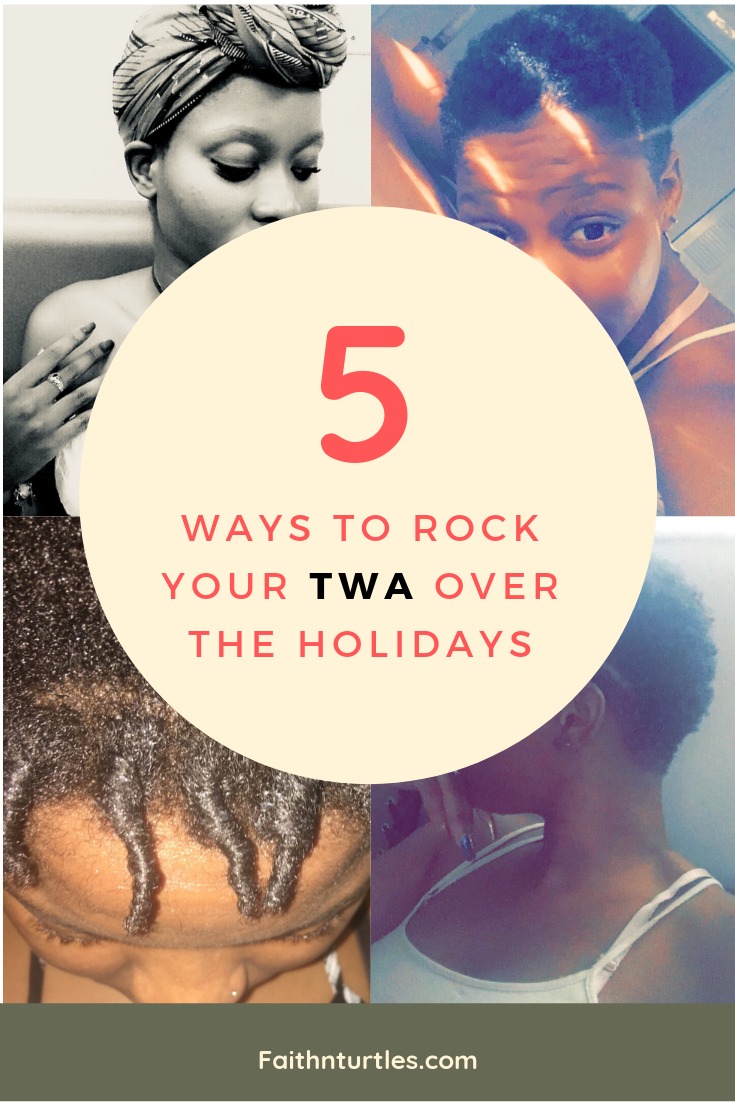 5 Ways to Rock your TWA over the Holidays
The natural hair journey is often not the easiest roads to trod. However, I've never regretted going natural or having TWA hair. For me, I change my hair with life changes. My first time going natural was 2012 when I completed high school. In 2014, I decided to try Jerry Curls and I absolutely hated it after a few months. I then decided to do my second big chop just before starting University. In my final year of University, I decided to embark on a Loc Journey. I loved my locs, but a major life event occurred when I turned 23 so I decided to start fresh and I did my third big chop on my birthday (July 11).  
As an Amazon Affiliate, I earn a Small commission on items purchased using my links (which are in red and underlined) at no extra cost to you. 
Usually, I keep my hair braided while it grows but this time I decided to have some fun with my TWA hair in between braiding. I recently took out some afro kinky that I had in and I figured I'll just wear my TWA over the holidays.
Now I know that finding styles for a TWA can be hard so I decided to share with you the 5 ways that I will be rocking my TWA over the holidays. 
Finger Coils 
Finger Coils is first on the list because I am in the process of doing it to my hair. I've never done finger coils on my TWA hair before, only on my locs. But I find that its a super cute style to do. This style is also twofold; some people wear their finger coils for a few days before taking the coils out and leaving in the curls (I will be doing this). I will also be praying that the natural hair gods bless me with some nice curls!!
How to do Finger Coils on 4c hair:
Start on freshly wash hair so that it is moist 
Gather up the required tools

Rat Tail Comb for parting (optional)

Gather your products 
Steps 

Section your hair and use clips to hold the sections you will not be working with 

Wet the section that you are working with, with water from your spray bottle 

Apply coconut oil or other carrier oil 

Apply (optional) hair gel 

Wrap hair in a clockwise direction or direction you want them to lay, pull down then let it bounce back up

Continue until you are all done! 

Let it dry by using a hair dryer or let it air dry 

Rock those coils and curls
Gel will give you a tighter more defined curl and the comb for nice parts. Also, as you get in the middle you can wrap tighter at the roots. I try not to pull at my roots or edges too much.  Finger coils on 4c hair looks very cute so try it.
New Cut 
If you recently did a big chop you can always play around with different cuts. I did this for the first two months after my big chop. It was fun while it lasted, having shorter TWA hair is so simple and low maintenance (at least for me).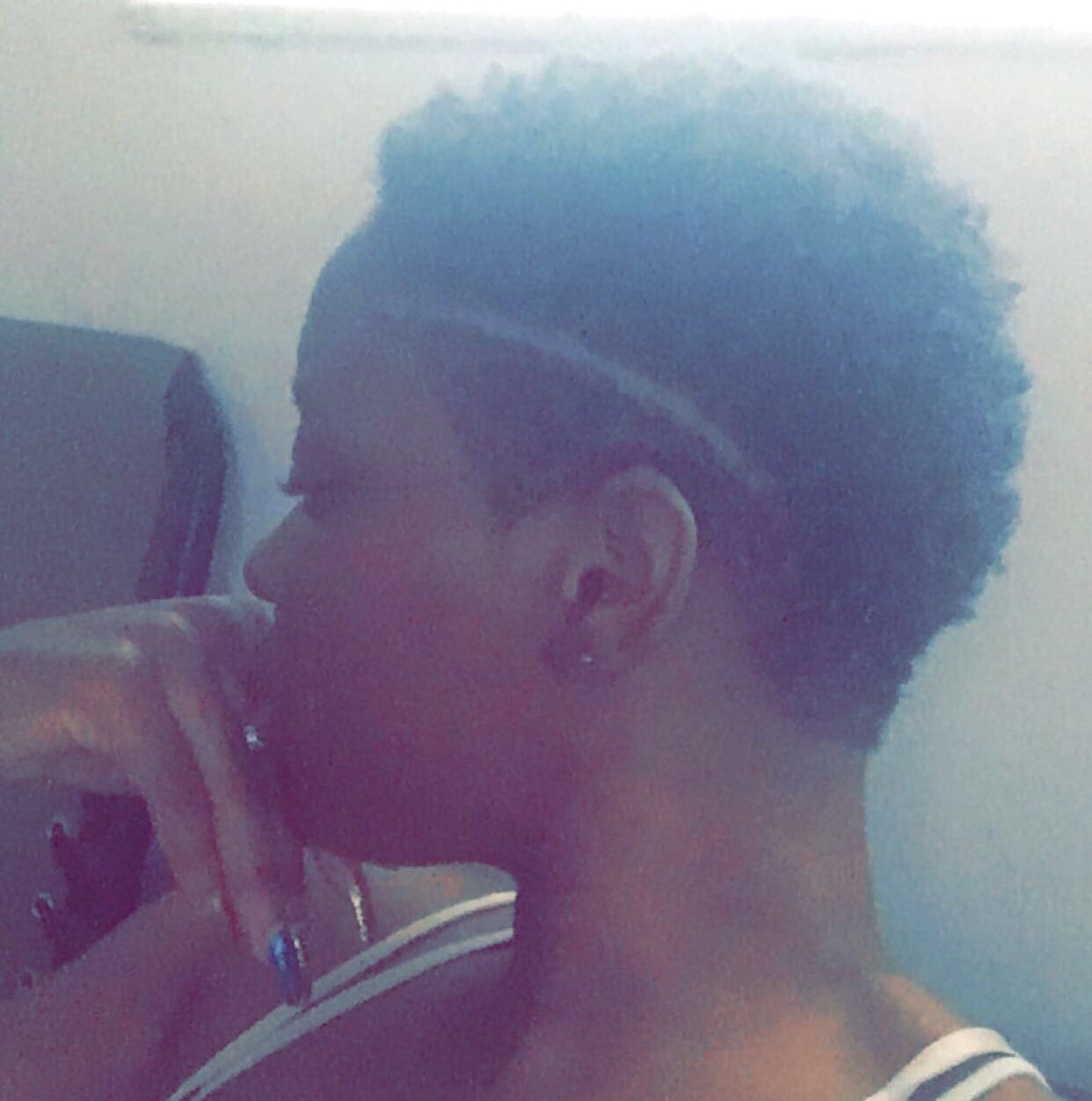 Wash and Go with hair Accessories 
A wash and go is super cute when you get it correctly. Personally, I've never done a wash and go and that's just because I don't like to use Gel in my hair. But if you don't have a problem with gel then give it a try.
This style can be achieved without gel if you have a curl pattern that likes to pop lol. My curls don't lol anywho…
How to:
Start with freshly wash hair 
On the wet hair, apply products 
Work In products until you have your desired look 
Add your hair accessories  (Head Band or Cute Flower / Brooch)  The WRAP Life 

Another quick and easy style is to wrap that TWA hair up. If you did finger coils, you can wrap them up for a few days then release the curls on Christmas Eve. 

Or you can simply get a nice head wrap to go with your outfit. Here is one that I have been eyeing for a while from Royal Head Wraps: Authentic African Wax Fabric (100% Cotton) Head Wrap.   

How to: 

Put on a head cap or stocking 
Straighten out your wrap 
Take the wrap and place the middle of the wrap on the back of your covered head 
Pull the two ends of the wrap together 
Twist ends together in a two strand twist pattern 
Starting at the base of the twist, wrap the ends around until you get your desired look.
SLAY!

If you would like a post on more headwrap styles just let me know in the comments. 

Let the TWA be + hair Accessories

Sometimes you just have to let Your TWA hair Be. If I have a lot to do and no time to fix my hair, I usually just

wet it
add some coconut oil
add a hair accessory and
hit the road. 

You can find many cute hair accessories in stores or online and I have linked to some above, under 'wash and go'. The one that I have in my photo I actually made it from pipe cleaners -covers face- but lol you are not me so get you something fancy for the holidays.  

Alright well, that's it for my 12 days of blogmas day 2. See you tomorrow. 

Love, Light, and Peace.